Event Hub
Texas Tech Wins First Big 12 Championship EVER
The Lady Raiders claim their first Big 12 Tennis Championship title in program history.


Texas Tech has made it to the finals the past 2 years but the team has come up short both times. Third time really is a charm for The Lady Raiders; they ended their losing streak tonight to claim their first ever, Big 12 Tennis Championship title.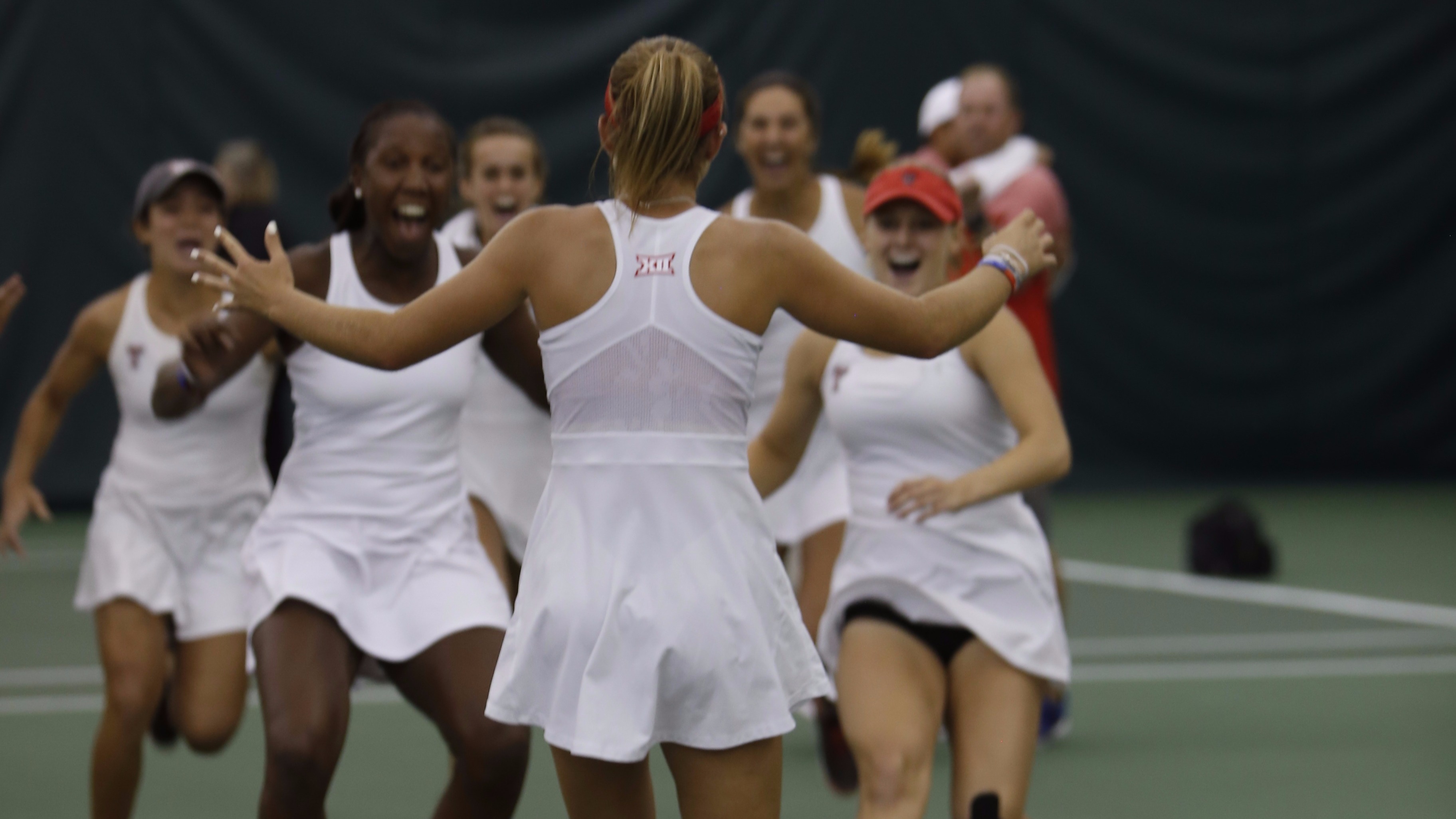 Texas Tech took down Kansas State 4-0 in the quarterfinal round, Texas 4-2 in the semis, and co-conference champions, Oklahoma State, 4-2 in the finals tonight.

Texas Tech came out strong and pulled off two upsets in order to win the doubles point. #75 Gabriela Talaba and Felicity Maltby upset #50 Aliona Bolsova and Sofia Blanco 6-2 on line 2 to win the first doubles match. Shortly after, #30 Sabrina Federici and Sarah Dvorak followed up with a 6-2 upset over #10 Carla Tur Mari and Vladica Babic on line 1.

  

The Lady Raiders played aggressive, clean tennis, to win the doubles point and they kept the momentum going when they started singles. The Cowgirls struggled to get started and Texas Tech won 4 of the first 6 sets to give themselves a hard earned advantage. It looked like the Lady Raiders were going to bulldoze Oklahoma. At the same time, on courts 1 & 3, Talaba and Dvorak went up 5-0 over Lushkova & Ruppert. On line 4, Federici went up 4-1 and on court 3, Valenstein gained a 4-2 advantage.

  

Dvorak took her first set 6-0 and Valenstein won her set 6-2, but on the other two courts Oklahoma State finally woke up and fought to stop the bleeding.

Lushkova nearly came back and won 4 straight games before Gabi Talaba closed out the first set 6-4. Babic made a complete comeback and won 6 straight games to take the first set 7-5 over Federici.

Talaba & Dvorak were playing next to each other on lines 1 & 3 and fed off each other's momentum. Dvorak put the first singles point on the board for Texas Tech to give them the 2-0 lead over Oklahoma State.



Shortly after, Talaba took out Lushkova, the #7 player in the country to bring the overall score to 3-1. (Side note, Gabi had lost 1 & 3 to Lushkova in their last meeting this season so this was a huge win for her and the whole Texas Tech team).



Even with these two wins, the match was tight and could have gone either way. Within a couple minutes of the 2 Texas Tech wins, Babic put Oklahoma State on the board with a 7-5, 6-3 win over Federici. Bolsova also came back and won her match for Oklahoma State on line 3 over Valenstein (2-6, 6-4, 6-3).

With the overall score at 3-2, Texas Tech only needed one more match to go their way but the other girls were knee deep in 3rd set battles and things looked shaky for a minute. Katelyn Jackson on line 6 had lost a close second set 5-7 and was down 3-5 in the third when Felicity Maltby came through and clinched the match, defeating Katarina Adamovic (she clinched the match yesterday for Oklahoma State over Texas), 2-6, 6-3, 6-3.


  
It was a great moment for Texas Tech and Coach Petty said:

It was the most special moment of my coaching career.

With her huge win over Lushkova, Gabi Talaba was awarded The Most Outstanding Player and Coach Petty called her :


The best player to put on a Texas Tech Red Raider Jersey.

With this win and the automatic bid into the NCAA tournament, Texas Tech awaits their next matchup. Their opponent will be revealed on the NCAA selection show on Tuesday, May 2 at 5:30pm