#4 Texas def. #5 TCU 4-3


In the most exciting match of the day, Texas came back from a 1-3 deficit to win 4-3 against TCU.

Things looked grim from the start. Texas lost the doubles point to the Horned Frogs right off the bat with losses on lines 3 & 2. TCU also jumped off to a strong start in singles and won the first singles point at line 6. Freshman, Anna Turati put the Longhorns on the board with a win at line 4.

TCU answered back with a win at line 2 to bring the dual match score to 3-1. On line 3, things looked good for #80 Petra Granic (UT), for a minute anyways. She went up 4-1 in the first set before losing 4 straight games to Aleksandra Zenovka and found herself in a 4-5 hole. Granic gathered herself in time to get the first set to a tiebreak. In the tiebreak she managed to pull off a 7-4 win and proved why she belongs in the top 100… She got tough when it counted. She didn't let Zenovka in during the second set and finished off her match with a 6-2 win in the second set.



Meanwhile, lines 1 & 5 were in absolute battles. On line 5, Daniella Roldan managed to break TCU's Donika Bashota once during the first set to pull off a 7-5 first set win. That didn't phase Bashota who controlled the second set and closed it out at 6-3 to bring the match to a third. Meanwhile, on court 1, Texas freshman, #42 Bianca Turati, lost the first set 1-6 to TCU senior, #57 Seda Arantekin. In the second set, the two girls were neck and neck and tied 3-3. It looked like the match would swing TCU's way since they only needed one match to go their way and Texas needed both matches to win and advance in the tournament. Bianca dug deep and fought for every point. She ran down everything and scraped together points by sheer will power. Somehow, she came away with the win in the second set 6-3.


Both matches went to third sets. Lines 1 & 5 were separated by 1 court with both teams standing between them on the empty court where Petra had won the line 3 match. The games were long and the scores were almost identical for the first few games. Texas led both 3rd sets 2-1. Then, on line 5, Roldan broke then held... but then Bashota broke and held. Momentum shifted constantly. At the same time Turati went up to 3-2 then 4-2 only for TCU to catch up and tie the match 4-4. Shortly after, Roldan ended the match with another break and hold to take the last set 6-3.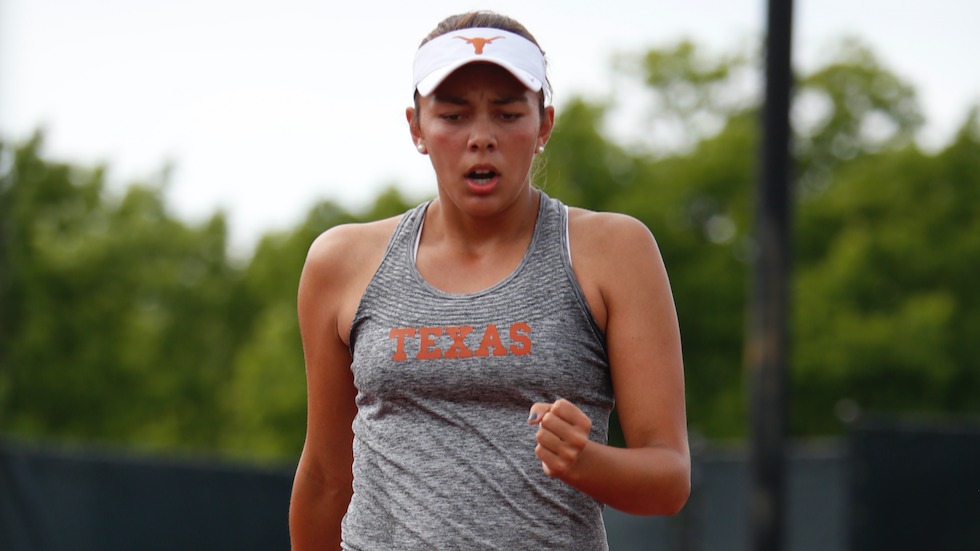 All eyes went to line 1. 4-4 in the third, Freshman vs. Senior, #42 vs. #57, Texas vs. TCU. Turati would not let up, she held her serve to bring the match to 5-4. Turati fought through Arantekin's serve and broke to take the match 6-4.



Texas will take on the #1 seed, Texas Tech in the semifinals on Saturday, April 29. Watch it all live here.