How Accurate Are The ITA Rankings?
It's the middle of the collegiate team tennis season, and rankings are always an interesting topic. While we all want to know how this season will end up, there are a ton of great matches yet to played. Maybe it's all the brackets and March Madness stuff, but we looked at the rankings this week and wondered how accurate the beginning and mid-season ITA men's rankings were at predicting the season-ending top 10 teams and NCAA champions.


ITA/Oracle Rankings Men's Top 10 Analysis

We looked at the week one, week 10, and final rankings over the past seven years to see how many of the top 10 teams at the beginning of the season finished in the top 10 and how many that broke into the top 10 in the middle of the season stayed there.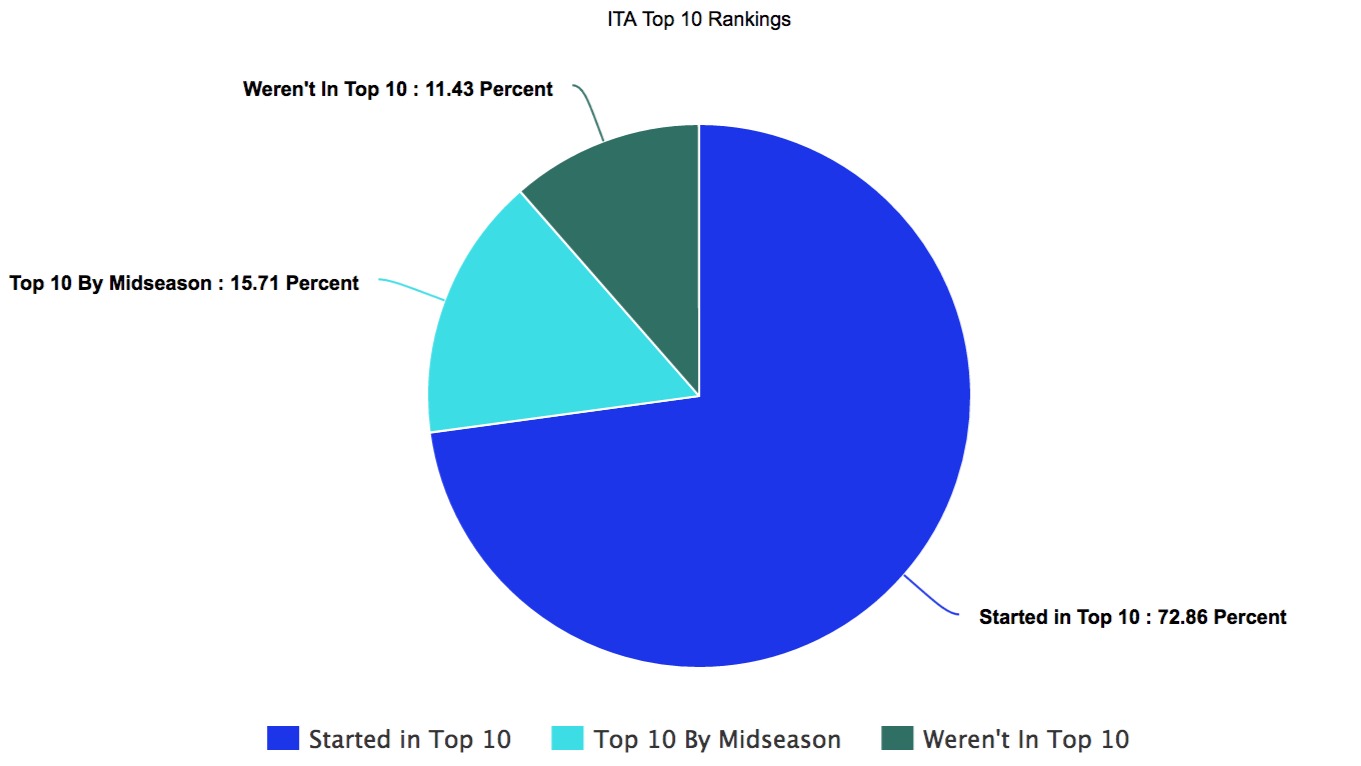 Men's ITA ranking stats 2010-present:
72.86% of the teams that started out in the ITA top 10 ended in the top 10
15.71% of the teams that ended in the top 10 broke into the top 10 by week 10 of the rankings
11.43% of the teams came from outside of the top 10
This means that we can count on seven to eight teams to end up in the top 10 that have been there since the beginning. That's pretty accurate. We see you ITA, way to go. One to two teams that have broken into the top 10 by now will end up there, and one to two "dark horse" teams that have maybe graced the top 10 for a couple weeks will come through to knock out one of the steady top 10 teams for their spot. The order in which these teams will finish is a lot more difficult to predict, because the teams still have so many great matches ahead of them.



NCAA champions have started the season in the top five 100 percent of the time.



Another interesting thing to note is that in the past seven years, the NCAA champions have started the season in the top five 100 percent of the time. If that statistic proves true this year, that means the NCAA champion will be one of the following teams: Virginia, Ohio State, Wake Forest, Texas, or Cal. Going even further into the data, four of the seven past NCAA champions started off the season ranked No. 1. That means that the No. 1 team at the beginning of the season wins the title more than half of the time (57.14 percent of the time). Things are looking good for UVA right now…

This is only based on the past seven years of data, but this is still interesting stuff. For all of you stat nerds like me out there, here are a few more interesting correlations from the ITA/NCAA data:


The NCAA runner-up team has started the season with the No. 2 ranking 42.86 percent of the time
The champion and runner-up teams have started the season ranked No. 1 and No. 2, respectively, 28.57 percent of the time
Conclusion: 

Based on these past seven years, it looks like the ITA's system has correctly predicted 72.86 percent of the season's top 10 teams and has placed the NCAA champions in the top five a perfect 100 percent of the time.

If you're more of a visual person, here is my spreadsheet breakdown, along with my predictions for this year's end results: