Event Hub
Recapping NCAA Championship Title Matches
By Ashley Spicer

We take a look back at the NCAA men's and women's singles and doubles championship matches and recap all of the action from Tulsa, Oklahoma.


Men's Singles
Mackenzie MacDonald (UCLA) def. Mikael Toppegaard (Ohio State) 6-3, 6-3

Sixth-ranked Mackenzie McDonald became the 12th NCAA Singles Champion in UCLA history on Monday following his defeat of top-ranked Mikael Torpegaard of The Ohio State University in straight sets in the men's singles final.

"It feels unbelievable," said McDonald of winning the title.  "I've always dreamed of this moment, and to actually have the trophy in my hands is pretty surreal.  It's just an unbelievable feeling and I'm really thankful to be here." 

Despite being broken in the first game of the match, MacDonald stormed back to win 4 straight games and go up 4-1. He would break Toppegaard at 5-3 to take the first set handedly at 6-3.  MacDonald would go on to win the second set by one break as well 6-3.

MacDonald had a relatively easy run to the championships, dropping only one set throughout the tournament to #14 Joao Monteiro of Virginia Tech.

With his win, MacDonald joined the ranks of Jimmy Connors and Arthur Ashe as Bruin NCAA Champions.


Men's Doubles 
Mackenzie MacDonald/Martin Redlicki (UCLA) def. Arthur Rinderknech/Jackson Withrow (TAMU) 6-4, 6-1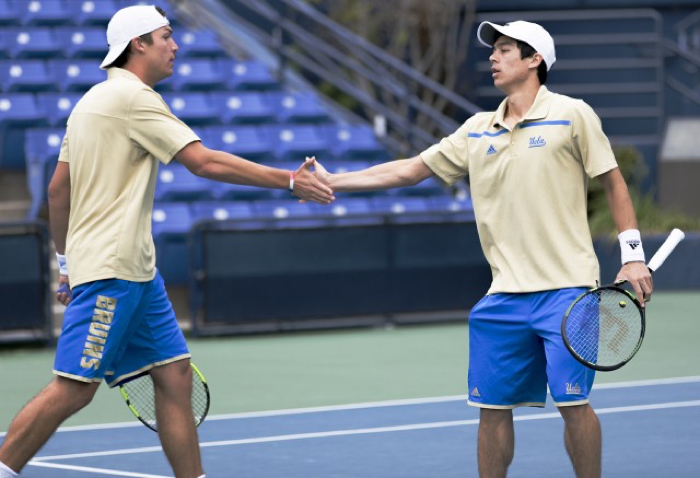 The second-ranked duo of Mackenzie McDonald and Martin Redlicki made history with their defeat of No. 8 Arthur Rinderknech and Jackson Withrow of Texas A&M, 6-4, 6-1, in the 2016 NCAA men's doubles final. This is the first time in 45 years that UCLA has won both the NCAA singles and doubles titles in the same year--a feat that has only happened five times before in school history.  It last occurred in 1971, when Jimmy Connors won the singles title and Jeff Borowiak and Haroon Rahim took home the doubles crown. 

It was also historical for MacDonald, who captured the singles title, as he made history as the first man since Matias Boeker of Georgia (2001) to win both the NCAA singles and doubles titles in the same year. McDonald is the 38th player since 1883 to win both doubles and singles titles.

"There's a lot of emotion running right now," said Redlicki of being a national champion.  "On the court you tell yourself all the time 'one point at a time, just focus on every point and don't let the moment get to you.' But it's challenging especially when you're in a championship match against a great team like the guys from A&M, just being able to keep your composure down the stretch.

The Bruin duo finished the season with an 18-6 overall record and a 10-5 mark against ranked opponents. This is the 11th time that a UCLA doubles team has won the NCAA doubles championship, and the first time since 1996 (Justin Gimelstob and Srdjan Muskatirovic).


Women's Singles 
Danielle Collins (Virginia) def Hayley Carter (UNC) 6-3, 6-2

Second seeded Virginia senior Danielle Collins claimed her second NCAA title on Monday, defeating top-seeded Hayley Carter of North Carolina 6-3, 6-2 at the Case Tennis Center.

Collins picked up her second NCAA title in three years with the straight-set victory. Collins also claimed the 2014 NCAA Women's Singles Championship as an unseeded sophomore.

"I think mentally it was a lot tougher to win this one but I did it and I don't really know how at this point (if it feels sweeter) as it is kind of a blur," Collins said. "It's pretty sweet to go out winning a national championship again to end my career. I'm just very fortunate."

Collins is only the seventh woman to win two NCAA singles titles in a career and the first from the Atlantic Coast Conference to accomplish the feat. Six other women, five of them from Stanford, have all won two NCAA singles titles in their career. Collins joins an elite group that includes: Patty Fendick (Stanford -- 1986, 1987), Sandra Birch (Stanford -- 1989, 1991), Lisa Raymond (Florida -- 1992, 1993), Laura Granville (Stanford -- 2000, 01), Amber Liu (Stanford -- 2003, 2004) and Nicole Gibbs (Stanford -- 2012, 2013).

With her victory, Collins will undoubtedly receive a US Open main draw wild card, as she did in 2014. Although a wrist injury that year kept her from playing and training during that summer, she still managed to take a set from Simona Halep in her first round match.